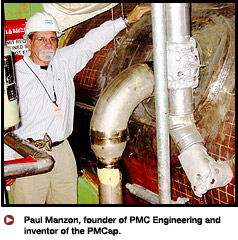 PMC Engineering is a full-service engineering company specializing in solutions that support continued operation of degraded pressure vessels and piping, Our patented restoration process saves our clients time and money by avoiding risks typically associated with component repairs, reduces equipment downtime, eliminates costs replacements, and restores components to code compliant status.
Located near Philadelphia, PA, PMC Engineering began as an engineering services organization specializing in ASME Code pressure vessel design, evaluation of degraded components for fitness for service, and structural engineering. Since receipt of the patent (US Patent 6,860.297) for the technology, PMC Engineering actively participated in numerous successful Code component restoration projects.
PMCap encapsulation components eliminate costly downtime associated with flush patch and weld overlay repairs and restore code compliance to components subject to localized erosion, corrosion, pitting, cracking, or overstress conditions.
PMCaps are accepted by NBIC, API, and NRC and are supplied as "U", "N" or "NPT" stamped parts. Installation by full penetration welding to the exterior surface takes less than half the time of flush patch repairs.
This process extends service life and improves component mechanical integrity while eliminating foreign matter intrusion, extensive rigging, vessel distortion, purging, and draining associated with breaching the system.
Never perform a "temporary" non-Code repair or flush patch in your facility again. Contact PMC to discuss all your options.